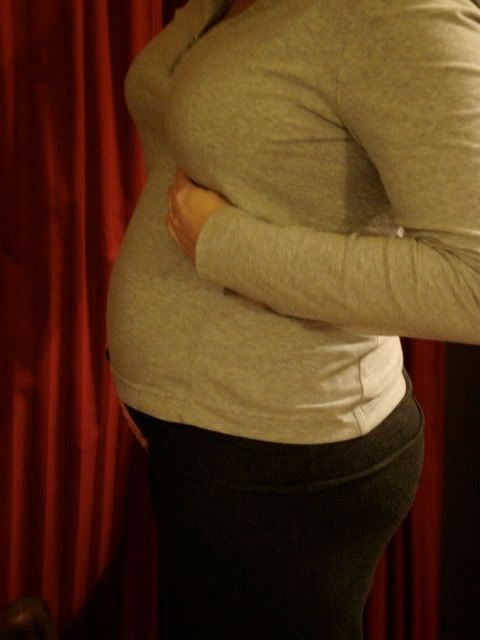 The bump growth wasn't quite as significant this week as last...
10.5 squares today at 15w1d.
I have noticed my clothes are hardly fitting, but I'm trying to hold out on buying any maternity jeans since I have these brilliant Bella Bands and spring is just around the corner- which means that I can finally live in capris and skirts!
Thankfully, two of my girlfriends are coming to the rescue as far as my wardrobe goes. Sweet Sarah Kanouse invited me to have lunch last week and go through her maternity clothes. Sarah's adorable (and very happy) daughter, Hazel was born in September of last year, so she had tons of spring and summer outfits to get me through the upcoming weeks. Sarah also is trying to convince me to use cloth diapers... we'll see, Sarah- I'm not committing yet!
Also, Kevin and I are taking a road trip next weekend down to Jasper, IN to visit our good friends Natalie, Matt and my sweet Goddaughter, Emma Pryor. Emma was born last July, so thankfully, Natalie also has spring and summer maternity clothes that she is letting me borrow. She's even got a maternity bathing suit that will be great for our trip to Mexico in a few weeks! Natalie, being the kind and generous friend that she is, has also offered to help me start a registry while we are there. I have no idea what type of gear these babies require, so I trust her to let me know what I really need and what I don't. Even though it's early, I'm so happy that I'll have help getting a jump start on things.